Later this week, Akamai is introducing a whole host of interesting updates to solutions for edge computing, media delivery and security. The new features and services really help us respond to current changes – lockdowns, quarantines and other protective measures from government agencies and in companies have led to, at times, major shifts in user behaviour, media usage and the desire for secure cloud connectivity.
We describe some of what we consider to be the most stimulating new developments, with particular interest in media delivery solutions and related features from the disciplines of edge computing, web performance and cloud security.
Details on the services used can also be found in our partner portfolio.

With central services for media delivery – such as Adaptive Media Delivery or Download Delivery – Akamai has been recording very strong growth in traffic and user numbers for some time now. This is accompanied by the high-level expectation regarding delivery quality, i.e. lowest latency and highest performance. A few figures from recent months illustrate this development:
"Peak traffic on the Akamai platform exceeded 100 terabits per second every day in the second quarter. It was only in October 2019 that traffic exceeded the 100 Tbps threshold for the first time in company history. The enormous capacity of the Akamai Intelligent Edge Platform has provided unparalleled scale and industry-leading performance and reliability for billions of people around the world as they deal with the pandemic. During this time, Akamai has supported numerous large over-the-top service launches, game and software releases, helped organizations advance their digital transformation, adapt to remote work and more. The Akamai Intelligent Edge Platform remains the most pervasive CDN in the world, which has grown to include more than 300,000 servers in 4,000 locations and nearly 1,500 networks around the globe, to remain closer to audiences for the lowest latency and highest quality."
Perspective Livestreaming:
"Next year is shaping up to be a BIG one for live streaming. With this in mind, Akamai has used much of 2020 to prepare new capabilities that will help customers be ready for this surge. As part of this platform update, Akamai is announcing several capabilities for live streaming, including support for low-latency HLS. The emerging specification is intended to provide users end-to-end latency of three seconds or less and backward compatibility across the Apple video player ecosystem. It's expected to help drive overall adoption of low latency in live streaming for the most popular streaming formats. The new developer-friendly Media Services API automates the process of configuring live streaming workflows on the Akamai Intelligent Edge Platform. Akamai's Access Revocation is core to Akamai's "prevent-discover-enforce" content security posture, providing content rights owners the power to stop unauthorized video streams. The newest version boasts improved scale to serve larger audience sizes as well as quicker revocation response times to provide highly-scalable enforcement of fraudulent or shared streams. Akamai is ready to handle the upcoming surge in live streaming and is committed to driving success for our customers."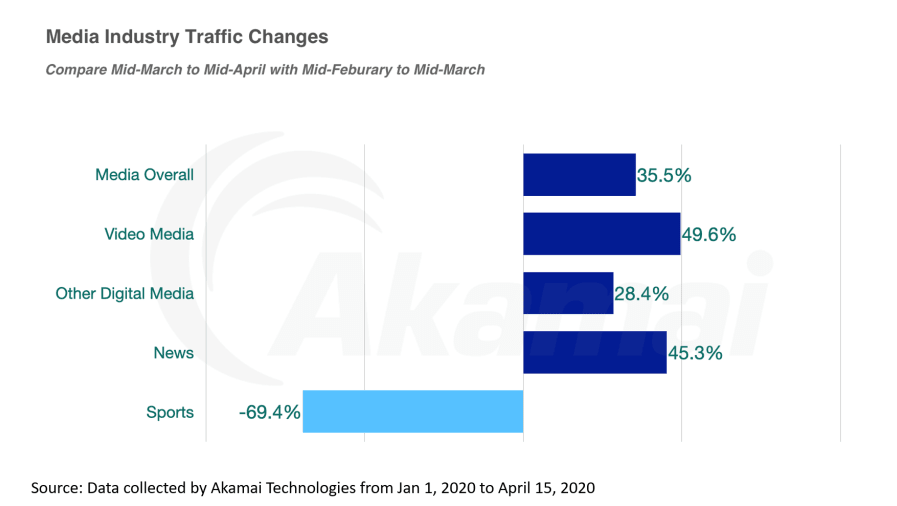 Source: A look at how Covid-19 is impacting worldwide internet traffic on media sites and channels

Details of updates in the media provision section:
Adaptive Media Delivery: Streaming media delivery product, introduces improvements that optimize delivery of streaming video at scale. Among those are support for a new low-latency live streaming protocol; improved connectivity with Azure origins that offers customers reduced egress fees; as well as added support for EdgeWorkers, Akamai's cloud compute solution.


Download Delivery: Introduces improvements to connectivity with Azure origins to offer customers reduced egress fees, as well as added support for EdgeWorkers, Akamai's cloud compute solution.



Media Services Live:

Has added capabilities that simplify the provisioning of live streaming video workflows for developers, and the creation and archiving of highlights and clips during post production operations along with support for scalable low-latency live streams. Learn about all new Media Services Live API features in this dedicated blog post.
Akamai Control Center: Is introducing reporting improvements that enhance customers' visibility across all Akamai products into usage, offload, billing and Akamai APIs.
Cloud Wrapper:

Is adding operational improvements and multi-CDN support to help customers maintain shared cacheability, predictable offload levels, and cost savings for origin infrastructures within increasingly complex and open live streaming architectures.



More on this in the article:

OKTOBER 2020 - NEUES IM BEREICH DELIVERY

---
Edge Computing: Updates bei Image & Video Manager und EdgeWorkers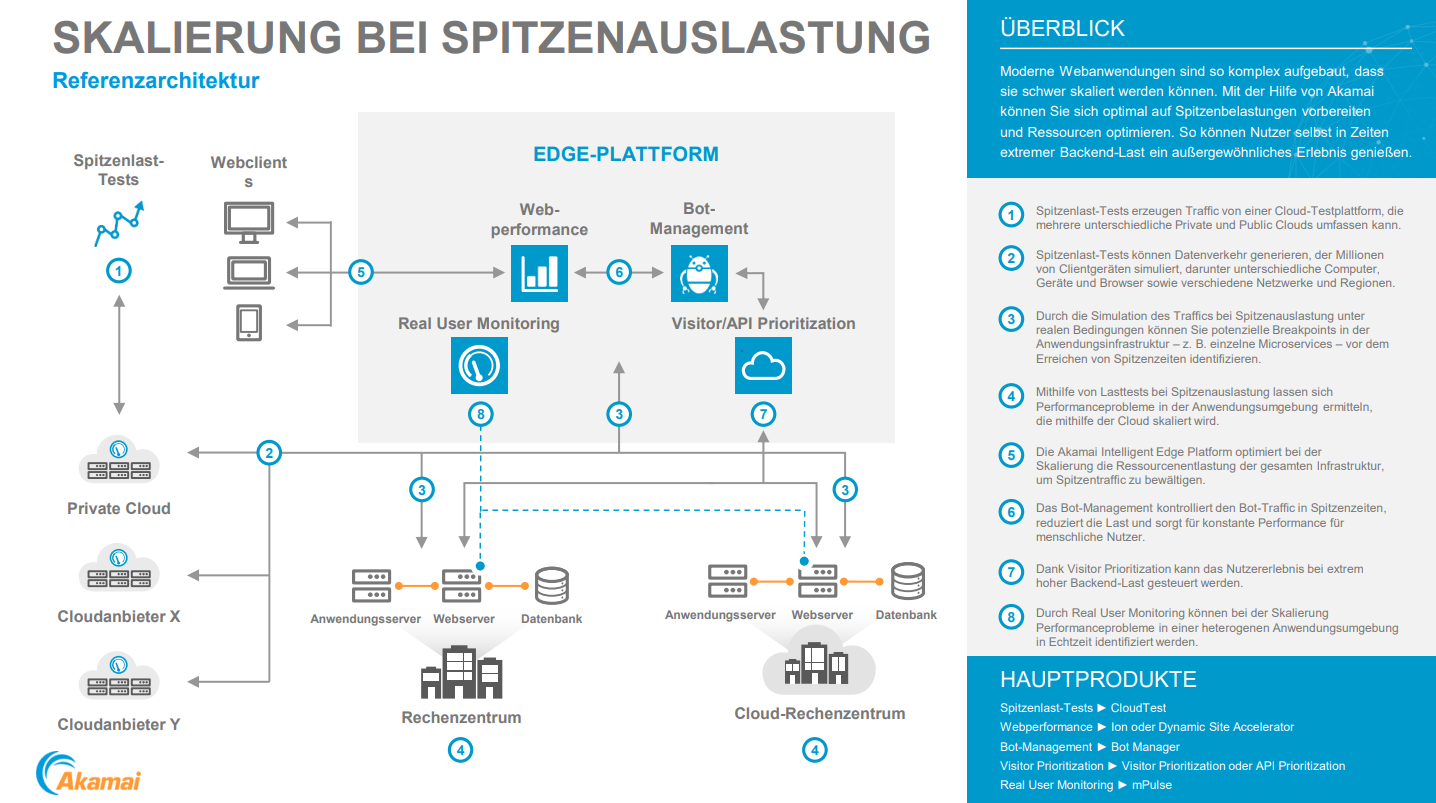 Reference architecture: The Edge Platform
Akamai Image & Video Manager (IVM) is a software as a service (SaaS) that utilizes Akamai's edge computing capabilities to optimize image and video files. It automatically creates, stores, and delivers file versions that are optimized for the combination of hardware and software the end user is using to access a site at that very moment. The optimized copy is then delivered to the end user without the need to create multiple versions housed at origin.



EdgeWorkers Microservices

- As sites and applications move from monolithic builds to creations driven by multiple microservices, the ability to assemble and deliver content from diverse sources becomes increasingly important. With the October 2020 Akamai Platform Update, we've expanded the ability of developers to code dynamic content assembly at the edge -- creating microservices that include external requests and the ability to manipulate response bodies. The result is even greater innovation at the edge -- along with the ability to quickly deliver new digital experiences across our global network, allowing for more innovation with less effort and better performance.

More on this in the article:

UPDATE DER AKAMAI-PLATTFORM IM OKTOBER 2020: COMPUTING AN DER EDGE
More updates will be presented here over the next few days.
Developers are recommended to have a look here.

---

Our team of certified Akamai specialists will be happy to provide you with further details on the extensive innovations in play, and advise you on all questions regarding integration into your individual system landscape. We're happy to be there for you.