This year's theme, "DigitALL: Innovation and technology for gender equality", highlights the importance of technology as a catalyst for creating equal opportunities for all genders.
As a company in the tech industry, we at G&L believe in the power of diversity and inclusion in the workplace. That's why we asked four women in our team to share their experiences and insights on gender equality in tech.
Check out their interviews and join us in celebrating International Women's Day 2023!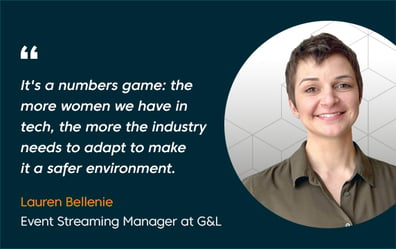 // Lauren Bellenie

You are an Event Streaming Manager at G&L. What is your career path so far?
I was born in England and grew up in the San Francisco Bay Area, where I lived until I was 27. In 2017, I moved to Berlin, a place I had discovered while traveling and felt immediately drawn to as a place where I could see a future for myself. I had already worked a lot in video production at university in California. In the Bay Area, there is virtually no escaping the tech industry. In Berlin, I focused entirely on video production.
What do you like about your job, what is the best part of your workday?
Two things. Firstly, the people I work with. They are not only brilliant at what they do, but also very cooperative and interested in finding solutions to problems. And the other component is the problem-solving aspect itself. Every day presents a new challenge. I never find problems frustrating, but rather satisfying when you figure out how to solve them in the end.
Have you always appreciated challenges in this way? Is there any advice you would have wanted at the beginning of your career?
Let go of fear of failure and rejection. Women are often confronted with a high demand for perfection, which can hold us back from risk taking. When you take calculated risks in your career, you will learn very quickly. The gains will be huge and the failures and rejections will build knowledge and strength.
What message do you want to give to women or girls who are interested in a career in the technical field?
If you have an interest and joy in this work, then please find a way into this field! For me, it's a simple numbers game: the more women we have in the industry, the more it has to adapt to create a safe environment for everyone.
Don't let imposter syndrome get you down and don't think everyone in the room is smarter and more experienced than you.
What would be the impact if more women were involved in the technology industry?
An important aspect in this context is visibility. If you see another woman doing what you want to do yourself, then you simply have a role model.
The gender imbalance in the industry also has a lot to do with how the world values feminine traits. With more women, traits like collaboration and compassion, which are often classified as feminine, would be more strongly represented. My hope would be that the cultural norm in the workplace shifts in this direction.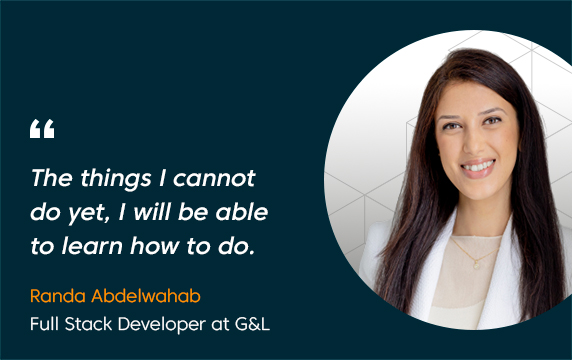 // Randa Abdelwahab

What has been your career path leading up to your current position?
After studying software development in Egypt, I worked in tech departments of companies for six years. Working in the same environment for an extended period limited my opportunities for growth, so I decided to break out of my comfort zone and applied for a position as a full-stack developer at G&L in Germany.
What does it mean for you to break out of your comfort zone?
It means facing things that challenge or scare me, such as the fear of not being good enough. As I know from many other women, there is often pressure to be perfect. This can lead to not applying for a job if you don't meet all the requirements. It takes a lot of courage to say, "The things I cannot do yet, I will be able to learn how to do."
Are there challenges in technical professions that women face in particular?
There is still a large gender imbalance in the tech industry, with women often making up only around 28 percent of the workforce at large high-tech companies. This can make women feel isolated and make it challenging to network and find career opportunities.
Were there people in your life who inspired you to pursue a career in tech?
As a child, my older brother inspired me. He entered the technology industry early, and I always found it fascinating how he could control everything with command lines and programming code. Additionally, my parents encouraged me to work in a field that keeps up with the fast-changing world.
So, the original decision to pursue tech was also driven by practicality?
Yes, actually. But after my second year of study, I became completely passionate when I developed my first program and saw the first results. I fell in love with this work and suddenly started getting straight A's. It showed me how important it is to love what you do.
Is there anything you wish you had known at the beginning of your career?
Yes, I wish someone had explained to me that it is okay and normal to fail. It does not mean that you are not good enough or smart enough. It just means that you can keep trying and learn from it.
What message do you have for women or girls who think a career in tech is not interesting for them?
Don't say you're not interested in something until you've tried it. Maybe try playing around with HTML. You don't have to go to university right away. There are many online projects and resources. It's so easy these days to access information and become good at something.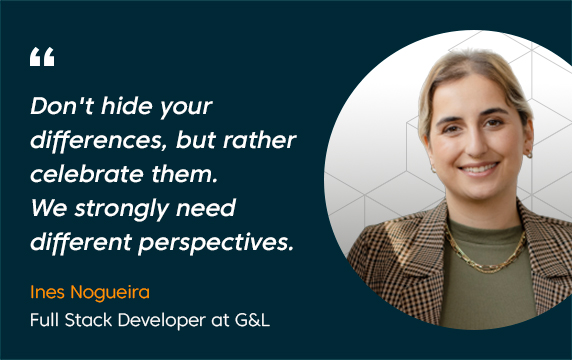 // Ines Nogueira

What was your work-related journey so far up to your current position as Full Stack Developer at G&L?
I started working in sound engineering in my home country Portugal. I have always been passionate about movies and music, so it seemed like a natural fit. My father was in IT, so I had early exposure to computers. I started coding in Tumblr, where you could do all the CSS and I did it for all my friends in the end. I decided to move to Germany, because I wanted more opportunities for sound and technical work. I developed my skills in coding in a training course in Berlin.
Was there something or someone that inspired you to pursue a career in tech?
Because my father is in IT, I already had access to tech topics. But my real inspiration came from all the women in my family who are strong and independent. It's also a lot about doing things for yourself, not depending on anyone and always going forward. This is what coding offers you.
How does coding offer you independence and the ability to always move forward?
When I set my mind to something, I try to learn it on my own. I was interested in making my Tumblr look nice, so I searched for ways to achieve that and kept practicing until I became good at it. I also stuck with it because it never gets boring when you're coding. You're always learning something new – there is simply no end in sight.
Is there a piece of advice you wish somebody gave you at the beginning of your career?
Be prepared to be wrong many times and move on! To all the women: Keep checking if you are questioning yourself because you really did something wrong or because you are a woman.
Asked the other way round, what advice would you give to women or girls who are interested in a career in tech?
A lot has changed in the last 10 years. At least in tech everyone is very welcoming. I feel we are at the point that it's more important to have different inputs than being like a homogeneous agglomerate. Differences are finally welcome because they generate better results. We strongly need different perspectives. So, to put it in other words: Don't hide your differences, but rather celebrate them!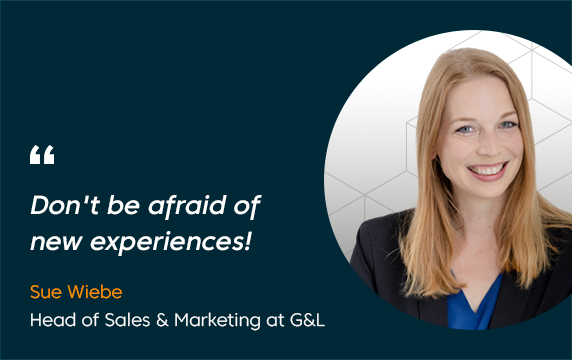 // Sue Wiebe

You work as Head of Sales and Marketing at G&L, how would you describe your career path?

During my studies, I tried out various subjects - among them, for example, regional studies in Asia and medicine. I also tried to get to know as many different industries as possible in the jobs I had while studying. When I finally joined G&L eleven years ago, I had already seen a lot and had apparently arrived at my destination.
What is your experience of gender equality in the tech industry?
In terms of numbers, we definitely still need to work on the presence of women in the industry. One indicator that clearly reveals the imbalance is that the women's toilets at industry events or trade fairs are usually empty.
How could the industry benefit from a higher female representation, especially in leadership positions?
It is no longer a secret that greater diversity in companies leads to better results and decisions. Like in life, the best approach for everyone can be determined by considering a matter from multiple perspectives.. More companies need to realise that greater diversity also produces more ideas and innovations, and ultimately creates economic benefits that can even be measured on paper.
Fortunately, it is now old-fashioned to not take women seriously because of their gender. But I would be lying if I said that there is no more mansplaining at all.
What advice would you give to women or girls on their professional journeys?
Don't let yourself be pushed to always go straight ahead. Try things out, take small side roads if you feel like it. Trust that detours are not in vain. Every job requires not only professional qualifications but also an incredible number of soft skills, and sometimes it can be very helpful to have seen a bit of the world.
Your own career path proves you right. What advice would have helped you at the beginning of your career?
Well, I have sometimes stressed myself out when starting something new once again. On the one hand, I wondered what the people around me would say and, on the other hand, whether I could even do it. It would have been nice if someone had told me: "Why can't you do it? You learned Chinese!" My advice is therefore: Don't be afraid of new experiences.