We are thrilled and honored to be selected as one of the top 51 companies in the Streaming Media Europe 51 list – a distinguished recognition of the most innovative, influential and dynamic technology companies in the streaming ecosystem.
"This great accolade acknowledges our team's dedication to continually innovate and push the boundaries of the streaming industry. We find ourselves in very good company on this list, not least because id3as, Irdeto and Theo are three companies that we partner with. We look forward to shaping the future of online video together," says Alexander Leschinsky, CEO at G&L.
The 2023 Streaming Media Europe 51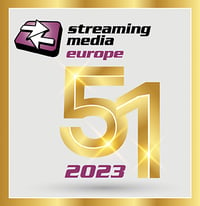 March 2023
By Steve Nathans-Kelly
Welcome to the 2023 Streaming Media Europe 51, returning after a brief hiatus in 2021 and 2022. The Streaming Media Europe 51 identifies the most cutting-edge, influential, and dynamic technology companies in the streaming ecosystem. This is our tenth list, and our first to narrow the scope 51 to organisations representing the best of the best, in a break with the sprawling 101 lists of old.
As in 2021, we've focused our attention on companies whose headquarters are based in the UK or continental Europe, even though their reach and influence in most cases extend well beyond national boundaries or local or adjacent markets (and even more so today than in the comparatively confining climate of early 2021).
Find the complete article at
streamingmediaglobal.com