The European Readers' Choice Award is considered one of the most important awards in the OTT industry and is presented annually as an audience award by the trade magazine Streaming Media Europe. Nominees and winners are selected by people who know and appreciate the mentioned services and technologies from daily use.
We are very pleased to have won the award in the category "Encoding/Transcoding Solution"!
Many thanks to all customers and partners who voted for us! Congratulations to all our fellow winners too – here is the full list: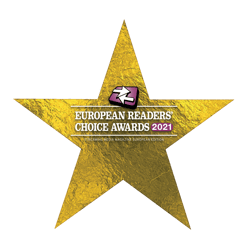 "Streaming Media takes the pulse of the online video industry every year in a variety of ways, such as through market research reports and expert conferences. But our Readers' Choice Awards provide us with the most valuable insights into which products and services have resonated with the people who matter - the technologists and engineers," reports Eric Schumacher-Rasmussen, editor-in-chief and vice president at Streaming Media. "If you want to know who's ahead in technologies, there's no better indicator than these awards."